Pet Urn Engraved Plate Offer
The Engraved plate is a 3" x 1" solid brass black metal plate with gold lettering with a high gloss finish and comes with a high adhesive back allowing it to be placed anywhere on the urn. The engraving can consist of three lines such as the pets name, a sentiment (i.e. "Forever In Our Hearts") and the birth and passing dates.
Item will ship USPS 1st Class Mail Service within 1-2 days from receipt of order.
3 X 1 Solid Brass High Gloss Black Plate with Gold Lettering Engraved Plate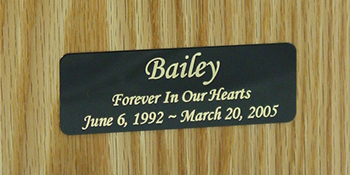 Click on photo to View larger image

3 X 1 Solid Black Brass Plate W/ Gold Lettering
on a Natural Colored Oak Urn